Are you looking to create a website but not sure where to start?
One of the first questions you might have is 'How much does it cost to build a website?'
The cost of building a website can vary massively depending on whether you are doing it yourself or having someone else build it for you, as well as all the add on options you may or may not need.
Which is why it's important to do your research first, plan what you need and then figure out how much it's going to cost before you get started instead of potentially losing a lot of money (and time) and ending up with a website that's not really suitable for your business.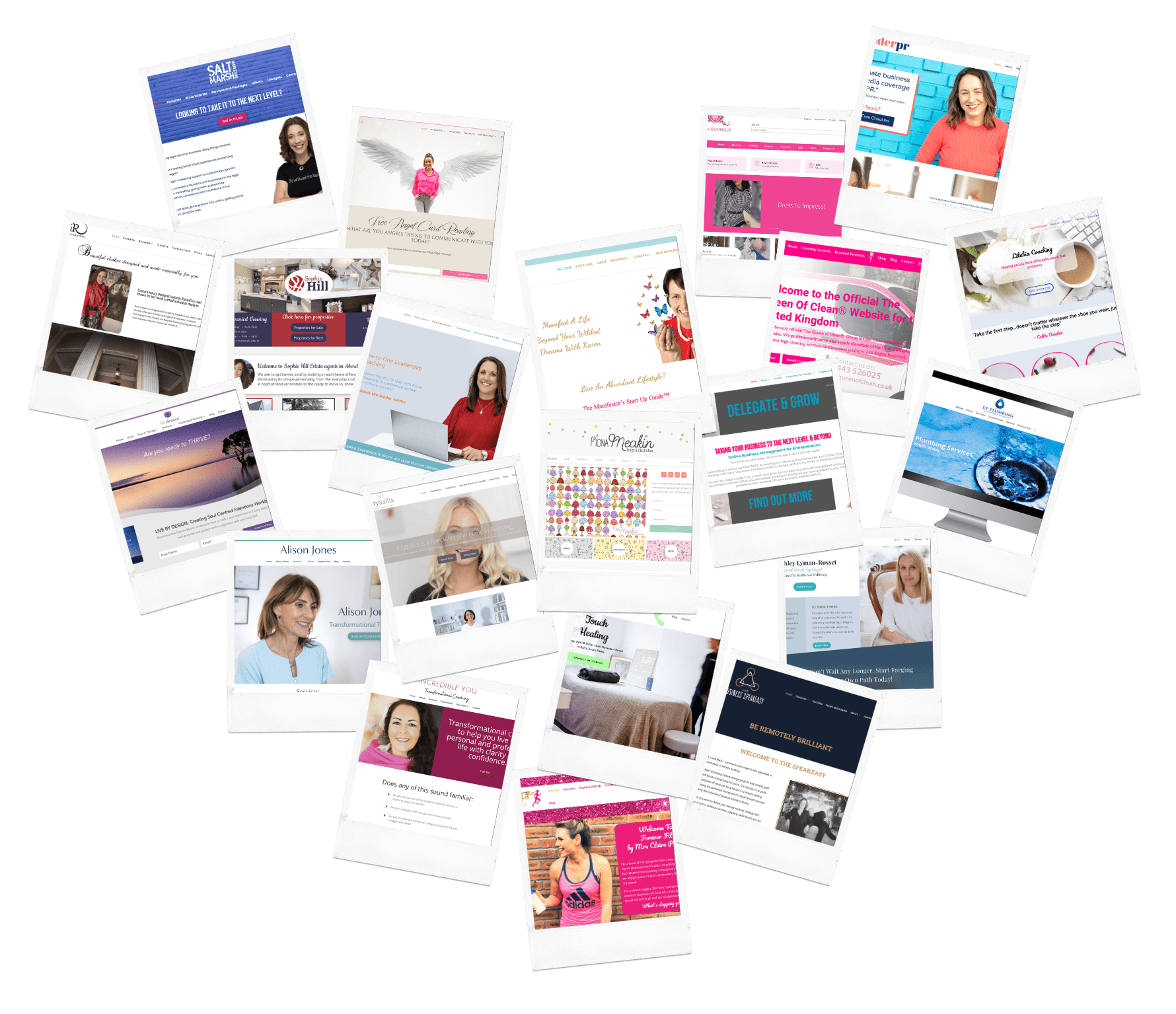 How much does it cost to create a website by building it yourself?
Building a website yourself can often by far more budget friendly but if you don't really know what you are doing it can sometimes end up costing you more and wasting a lot of your time (think hours and hours watching endless You Tube videos and getting no where!)
Firstly you will need a domain name (the URL of your business such as wonderfulworldofwebsites.com) which can cost you anything from a few pounds for the first year to around £15 a year for subsequent years.
There are many website builders out there that are free to use such as Wix and WordPress.com. They are easy to set up and a great starter websites on a free plan. The downside is that if you want to use your own domain name or have more customisation and advanced options you will need to sign up to one of their paid plans.
Currently (Feb 2022) Wix price plans start at £3.50 a month to use your own domain on a very small website (includes their ads on your site) to £19 a month for their top plan. WordPress.com has a very similar basic plan for £3 per month but if you want to add any sort of functionality you are looking at between £20-£36 a month.
For all my programs and courses I teach WordPress.org, which is open source free software and is what most people talk about when they say they have a WordPress website. Although to use this WordPress is free you will also need, in addition to the domain name, your own hosting. This is where WordPress can be installed (often with just a few clicks) and your website files are stored. At Website Wonder Woman we recommend Penguin Internet Limited (this is an affiliate link) based in Cardiff, where you can purchase basic hosting for £3 a month (including emails and security certificate).
There are also thousands of free plugins and themes so you can create your whole website without spending another penny (apart from the above monthly and yearly costs).
Personally I like to use a premium theme called Divi by Elegant Themes which is $89 a year or $249 for lifetime use. With Divi I can create whatever layout I like on as many pages as I like so that each website is truly bespoke. If you want to find out more about Divi have a go at the free live demo.
Adding ecommerce in WordPress can be done using a free plugin called Woocommerce and for online courses on my website I use a plugin called Learndash which is $189 a year (much cheaper than monthly online course builders and you drive traffic to your own website not someone elses and it can. becustomised to look exactly the same as the rest of your site – so nothing new to learn)
There are also many free and paind plugins (extra functionality) that you can add to your site from event tickets to online directories or vendor stores.
The biggest cost when it comes to creating your own website is your time, especially if you don't know what you are doing. Many people also lack the confidence in creating a site themselves for fear of breaking something or it not being as professional as if done by a designer.
How much does it cost to create a website if you get a developer to creat one for you?
This can vary HUGELY depending on the skills and pricing of the developer. From under £100 to over £10,000!
I have seen people purchase websites for under £100 that are not legally compliant and look awful but then I have also seen some developers charge a few hundred pounds for a website that looks amazing and also does what it needs to do. But the horror stories I hear are usually websites that have been done on the cheap and have to be redone from scratch, costing you even more money.
These days it's not just about design but functionality and converting clients so when choosing a website developer it's always good to see their past work and speak to people who have had websites created with them previously.
You will still need to pay for your domain and hosting as above, some developers include this in the charge and is purchased in their own name and you never get access. This can be really damaging for your business if something goes wrong or the developer goes out of business. Basically they own your business not you and have full control!
For me creating a 5 page website takes around 30-50 hours of time. It's not just a basic process of using your content to fill a template but involving you in the whole process from planning the website to creating each page and it's functionalities so you get a website that not only represents you and your business but getting it to do what you need it to do.
What do I charge?
I totally believe in the amount of control that creating your own website gives you which is why I created my 60 Steps to Website Success course where I take you through the whole process of purchasing a domain name to creating your whole site (including the Divi theme). When you know what you are doing it often get's done much quicker and EXACTLY to your own specifications, with me to hold your hand every step of the way in my tech support membership, The Tech Tavern.
For website creation my prices start at £1497 for a 5 page website (including the Divi theme). For that you are getting a completely bespoke website to your specifications and my tech knowledge, a planning session, weekly calls and live creation with you, how to videos and a one to one session on how to use your website.
If you don't know what you need then let's chat, as a free 15 minute call could potentially save you a huge amount of money and time!