60 Steps to Website Success
Want to create your own website but have no clue where to start, are totally overwhelmed with the options and would just like a step by step plan where you can do manageable chunks each day?
Are you ready to take your business to the next level and make an impact on the world by creating your own website, but lack both the skills and confidence?
Or you already have a website but you don't know how to make changes or it's not brining you in clients and you just want to start again from scratch?
Have you Googled your life away and watched endless You Tube tutorials and still haven't got a website? Or still no clue!
You want a website that looks good, works well and makes money so you can concentrate on doing what you do best.
But most of all you want to be in control and as your business grows and develops you want your website to grow with it, without waiting for someone else to do it or paying out time and time again.
A website for your business is that niggling task on your to-do list that you never complete. You know that 87% of all purchases are done online so having a website is essential and you need one to enable your business to grow and become more credible so why do you keep putting it off?
The dream of starting a business to give you more freedom and do what you love is slowly fading as you keep hitting roadblock after roadblock with all the techy stuff.
But you just don't want to pay over the odds for a designer (and then realise it's not what you wanted) and you want to be able to make changes yourself (budget-friendly, especially as your business grows and develops or you change your mind about what you want – another huge website bill is not what you will welcome!)
60 Days to Website Success
60 Days to Website Success is a self study programme for entrepreneurs who want to get their business online without the stress and overwhelm.
60 simple videos and simple manageable tasks that will take you through the whole process of planning, creating and promoting your website.
I want you all to leave this course with a fully functioning, professional and beautiful website that you can't wait to shout about and show the world and they love it too!
Are you holding back from creating a website because:
You are intimidated by tech
You don't know where to start?
You don't know what to do next or what order you should be doing things?
You don't know how to make your website look how you want it to?
You haven't a clue what all these things such as plugins and themes are??
You are worried you are going to break something?
It's not long before it's gotten so complicated and confusing you've given up.
What makes 60 Days to Website Success different?
Instead of a website course that you can dip in and out of, you get 1 task per day sent via email and that you can access via the online portal. Showing you where to start and then baby steps each day so you don't get overwhelmed. It's a complete structure to help you create not only a website but a successfyl website that will help you grow your business.
Optin pages and email integration
What's included?
Complete ownership and control of your website
A future-proofed website that grows with your business
The skills and the confidence to add all the functionalities you need and make changes as your business develops so no more paying out for support or re designs)
A website that looks EXACTLY how you imagined it
A daily video and simple task to keep you on track and stop you having a major breakdown!
A years access to the premium Divi theme (which is a premium WordPress theme that is used to build your site)so you don't need to pay out anything else to create your site, apart from your domain name, or have worry about which theme to choose or changing your mind on layouts as with Divi we build the layouts to your plan and it's fully changeable! (worth £80)
60 Days to Website Success is for you if:
You are desperate to get your business online and have a place you can not only send people to to find out more about your business but you feel proud sending them there!
You already have a website but want to start from scratch as you are suffering from complete website shame and hide it away from the online world
You are scared of technology and need someone to hold your hand and walk you through the steps
You want a professional, client winning website but you are control freak and you want to do it yourself (with a little help). You also want something that you are in total control of!
You want to feel proud and accomplished that you've done it yourself
You want to learn so that you can change and develop the website as much as you want without paying and waiting round for someone else to do it
Why should I do this and not pay a designer?
You can totally pay a designer to create your website, it's probably going to cost more and then you are most likely going to forget about it. You're not going to know how to make any changes (and if you do what happens if something goes wrong?) and as your business grows and develops do you really want to keep paying out for major changes and to add things like a shop etc.?
So many women come to me and they don't have any control whatsoever over their website, some don't even access! To even make the simplest changes costs at least £30 so in the long run you are going to be saving money, especially if you have a few businesses or websites to create!
Also the reason most of my students love my Academy is because they are in total control, if they don't like something they can play about with what it looks like or does, they have all the expertise of their business and a vision in their head – with my website expertise they can bring it to life!
When does the course start?
You can join at any time and will start receiving the emails straight away, with the first task the day after. But you can access the course content at any time and work through at your own pace.
What platform do we build the website on?
All my websites are created on WordPress and it is where my speciality lies, so that's what we will be using! We will also be using the Divi theme by Elegant Themes to create the layouts and a years licence to the theme is included.
What level of support do I get?
There's no support included with the course but you have the option to add one to one support sessions.
How much of my time will it take?
Each days video is a couple of minutes long and the task will take anywhere from a few minutes to an hour each day. The longer ones are the actual build but you can spread it out over a few days if you wish.
But you can watch the videos in your own time and get it done much faster!
On average it takes around 2 months for a designer to create a site for you and you will keep these skills for life so you can always make your own changes and improvements without waiting around for someone else to do it for you.
Why do I need this course?
Becasuse you are fed up of not having a website holding you back in your business.
This is a hands on course which will not only show you how to create your own website but potentially give you the skills and knowledge you need to set up and sell websites for others.
Instead of feeling overwhelmed and not knowing where to start it is a completely broken down system to help you create. awebsite in small manageable chunks.
What if I already have a website?
It's also ideal if you already have a website but you want to start again from scratch, or you already have a site built with Divi (or are a VA that manages sites for your clients) and want more in depth knowledge on how to use and make the most of it.
Do you I need any prior knowledge or buy anything before hand?
All you will need is a domain name and hosting (and there's a video showing you how to go about that so you don't need it before the course starts).
Most of my past students had no prior knowledge in creating websites before and have created the most amazing sites – everything you need is within the course (apart from the PC, Mac or Laptop to work on!)
So who is Website Wonder Woman?
I'm Lisa, also known as Website Wonder Woman and your fun loving landlady! I have been learning all about the world of websites for a number of years – launching my first website back in 2008.
I have also been running my business from home whilst bringing up my children since 2015, creating, supporting and training inspirational business owners in everything website and tech related.
What they all have in common is a passion and a vision for their business but a lack of technical expertise.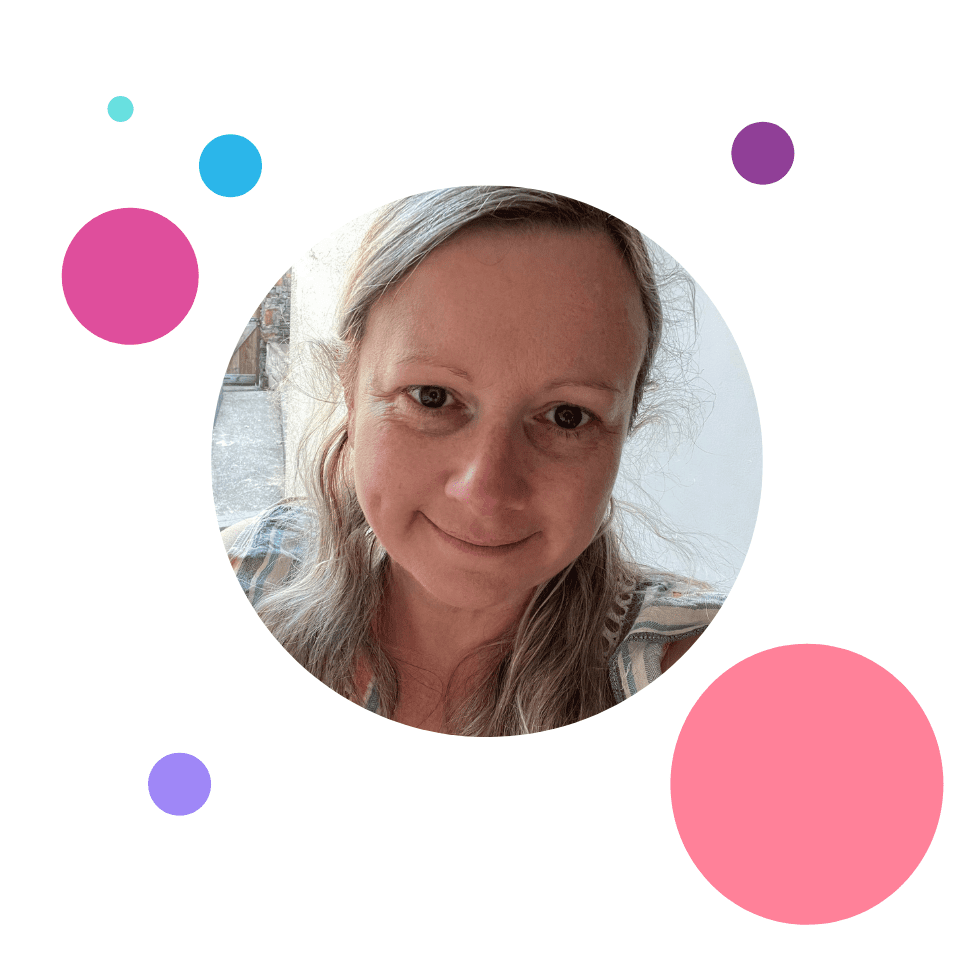 I'm not saying that I know it all but I know a hell of a lot when it comes to websites, WordPress, email lists, online courses, memberships… the list goes on, and I am constantly learning and have a passion for creativity and all things techy!
I also have an amazing team and range of people I work with who are experts in all the areas I'm not!
But I'm very good at explaining things SIMPLY and EASILY so that even the most technophobe amongst you will be able to follow.
I remember the days that if you want a website the start costs where around £3-5k and where built on complex systems like Dreamweaver & Joomla. You weren't allowed to access your site and if you wanted any changes done it would cost a small fortune. Then along came WordPress, which was a game-changer and it opened up the market to sites such as Wix, Squarespace, Google Pages, Lead pages, Kajabi etc.
Purchasing the course was an easy decision. I took part in the 5 Day Plan Your Website Challenge. I know from my own work that the biggest reason websites fail is due to the fact that very little planning goes into it at the beginning and what the client ends up with at the end isn't what they really want and worse – it doesn't help with their marketing!
I have always wanted to learn how to use WordPress correctly as it is the generally the software I recommend that business should use to build their website.
What I have loved about the course is the support and guidance provided by Lisa. Every question is answered and addressed. The modules are easy to follow and it provides everything you need from just a simple site to a full-on membership site or e-commerce.
The support alone is worth more then what I paid for the course.
This course is a no brainer for me – it will help you build a website that works for your business and it will give you the knowledge you need in the future as your business grows and you need help, you will know what experts are talking about and won't end up with a website that doesn't work for you and your business. It is like owning your own house.
I have worked in marketing for most of my life. For the past 20 years, I have helped small business with their marketing. A good website is the foundation for the majority of marketing activity an SME needs to do, especially after the year 2020!