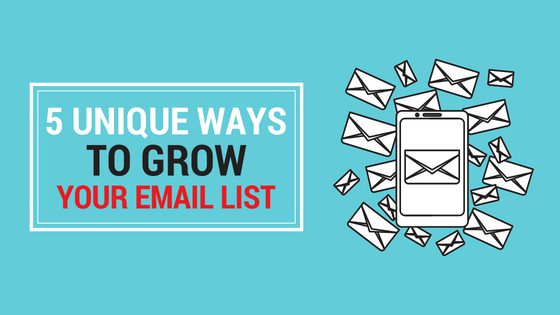 To get more business, you need to reach more people.  It doesn't matter whether you are just starting out with a new business, or you have been in business for years – you always need to be growing your audience.
Your audience are likely to be in many different places – on social media sites, online communities, email and networking groups.
So how do you expand your email list and grow it so you always have people to market and sell to?
There are a ton of ways you can grow your email list and increase your audience, but if everyone is doing them, they can end up being boring and even falling flat.
Here are five of the best (and most unique) ways to grow your email list!
Do you sell physical products?  If so, you probably hand your customers a paper receipt, right?  When you hand it to them, be sure to point to the section at the bottom on the receipt that offers them a special discount or offer on their next purchase when they sign up to your newsletter.
But don't just say.. 'Sign up to our newsletter and get 10% off your next purchase'.  That's been done to death!
Instead, make it interesting, fun and unique!  Use 'power words' to excite and persuade your customers to take action.  You could even use a little scarcity and say 'Visit xxx with the next 24 hours and receive 50% off your next purchase!'.
Not 10% or 20%, 50%.
Why so much?  Because repeat customers are 9x more likely to convert than a first time shopper.  And if they're on your email list, you have a much easier chance to sell to them and let them know about your newest products or special events.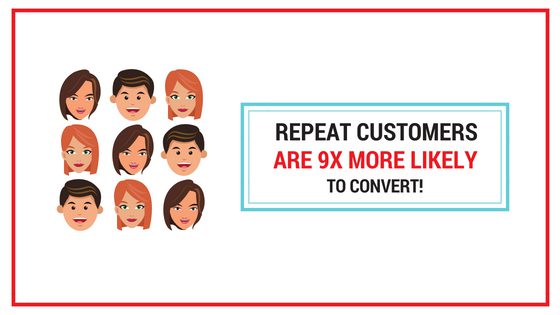 But what if you don't sell physical products?  Don't worry, this can work if you sell services online, courses, digital products and pretty much anything else!  If you don't hand over a paper receipt, you should be sending them a copy via email.
But doesn't that mean you already have their email address?
Well, yes and no.  Because of the GDPR that came into play on 25th May 2018, you can keep those email addresses on file and email them using 'Legitimate Interest'.  But that only lasts for so long, and as it's a flexible reason for business owners, it's also a flexible regulation for consumers too.
Wouldn't it be better to have their specific consent that you can market to them?  Yep!
So, when you send their receipt via email, make the email subject enticing..
i.e 'Thanks for your purchase – here's a free gift for you!' or something similar.
Then, within the email (not as an attachment, people won't bother opening it!) detail their purchase as you normally would for a receipt and add a big bold call to action asking them to visit your webpage & receive their free gift!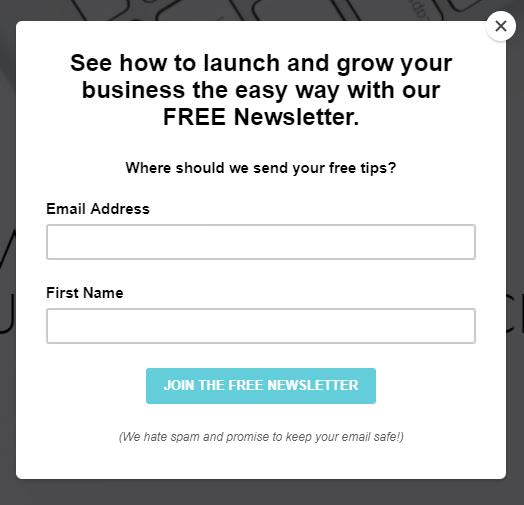 Don't hate on me!  
Popups WORK.  It's as simple as that!  They key to a great popup is to ensure it doesn't annoy the reader to the point where they want to leave your site.
That's why I love using exit popups.  They're non-intrusive – they still allow the viewer to read the web page or blog article they came to your site to read.
And if the viewer is about to leave your site anyway, what have you got to lose?
I personally love Sumo for pop ups (affiliate link) – quick and easy to set up, beautiful and simple to use!
A content upgrade is a type of lead magnet – something you giveaway in exchange for an email address.
Content upgrades can help you to grow your email list as the viewer is already interested in what you have to offer.
Let me show you how it works…
This article is about growing your email list, and that's something you're interested in, right?
You know that to grow your business, to get more leads, make more sales and increase your profits, you need to grow your email list and your audience.
Because you're interested in that, you are pretty likely to want additional information from me in how to do just that.
So I would put a content upgrade within this blog post for you to see.  An image, like the one below, could be used and hyperlinked to a form asking for name and email address.
Check out this page on GDPR & List Building to see a 'button styled' Content Upgrade.  It links to the content upgrade in the yellow image above, so you can grab the extra 4 tips too!
So, let's say you are in the business of copywriting.  You provide copywriting services for clients for their website, social media, emails and marketing materials.
Your content upgrade might be a free cheat sheet explaining how to bring your personality in to your website copy.
Perhaps you're a plumber.  Your content upgrade could be '5 Tips to Stop Your Pipes from Freezing this Winter (& How to Fix Them if They Already Have!)'. Crikey, with the amount of times I saw posts on Facebook about that last year, it's definitely something people want to know!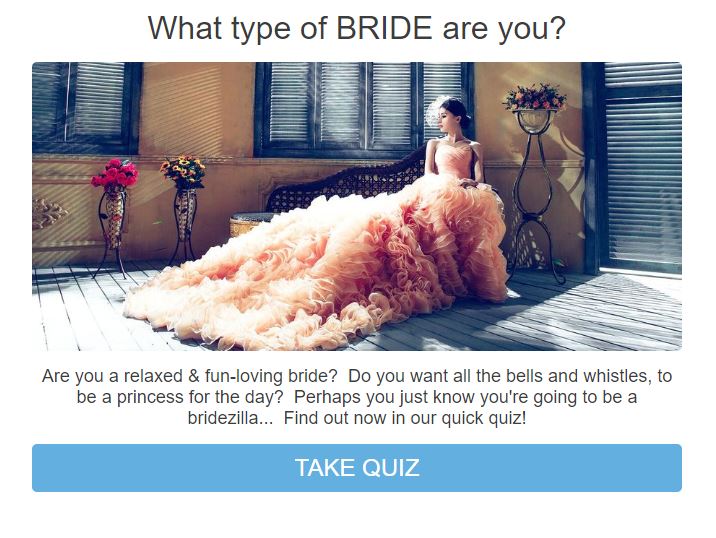 WIth their rising popularity on social media (and bored people working the Christmas holidays!) quizzes have become a fun and unique way to grow your email list.
Even though you are primarily creating your quiz to grow your mailing list, remember to make it FUN!
Use alluring titles, fun, bright images, and be sure to know your audience so that you drive the right type of people to your website.
Just before the results appear, ask for a name & email address & add a tick box to confirm you can send marketing emails!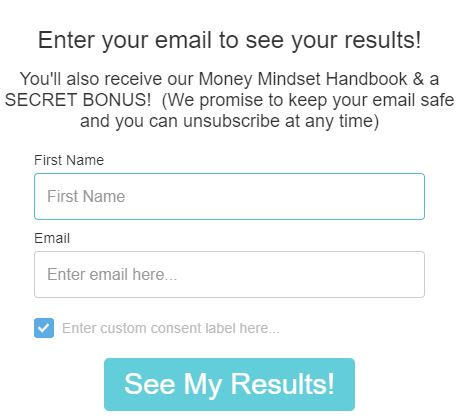 Quizzes re highly shareable too, so you can add a link at the end for the quiz taker to share their results on Facebook, Twitter or LinkedIn.  It's a great way to get some additional exposure for free!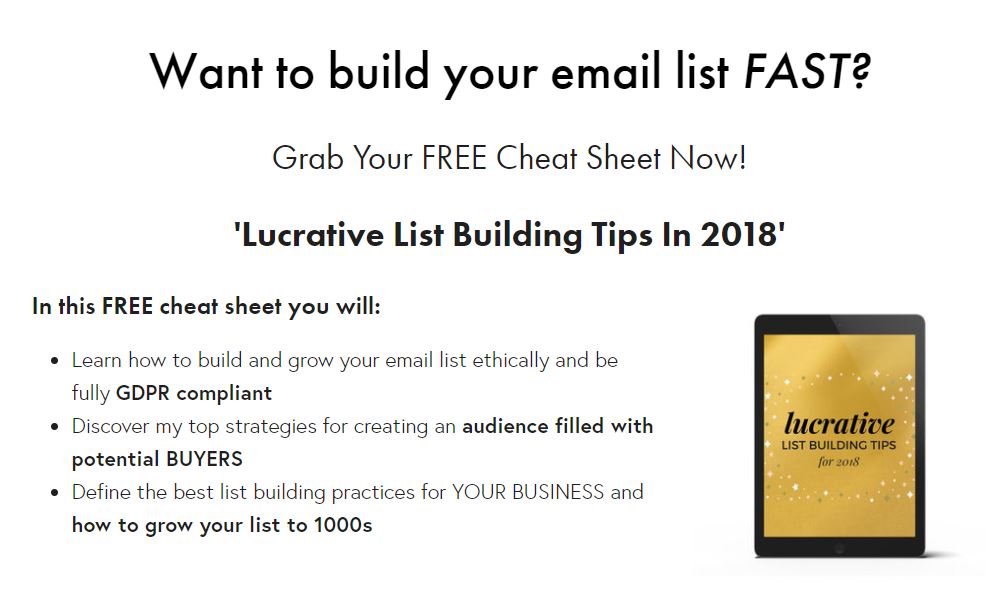 A
landing page
is a web page that is dedicated to one specific thing.  But they're not just to look pretty, you can use them to generate more leads and grow your email list too!
Creating a landing page is simple, easy and quick to do!  Design one for your lead magnet or freebie and be sure to optimise it fully for SEO.  That's when the magic happens!
SEO stands for Search Engine Optimisation – it's basically what you need to have on every page of your website to enable search engines like Google and Bing to 'see' your web pages.  They use things called 'bots', 'crawlers', or 'spiders' to scan your website (and all its individual pages and blog posts).
This means that when someone types into a search engine 'how to grow your email list' a list of web pages will come up that has those keywords on.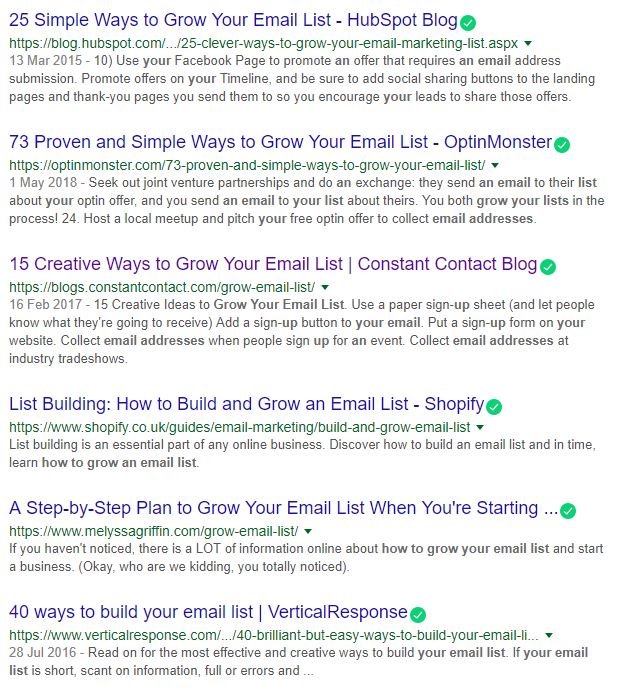 When you're creating your lead magnets, you should always create a landing page for each one.  Use your keywords (in the example above I would use 'grow email list') and be sure to have them written a couple of times in the landing page copy.
There are also several other places you should use your keywords, such as the page title, description and in the images you use on that page.
By doing this, Google can 'see' your page relates to the same topics that a user has typed in to it's search engine, and your website has more of a chance of being seen.
Then, when the user finds your landing page where your lead magnet is promoted, they can fill out your GDPR compliant opt-in form and get on your mailing list!
If you want to know more about making your opt-in forms compliant with the General Data Protection Regulations (GDPR) then click here!
Those are my top 5 unique ways to grow your email list!  If you want even more awesome ways to do it, download my FREE PDF here!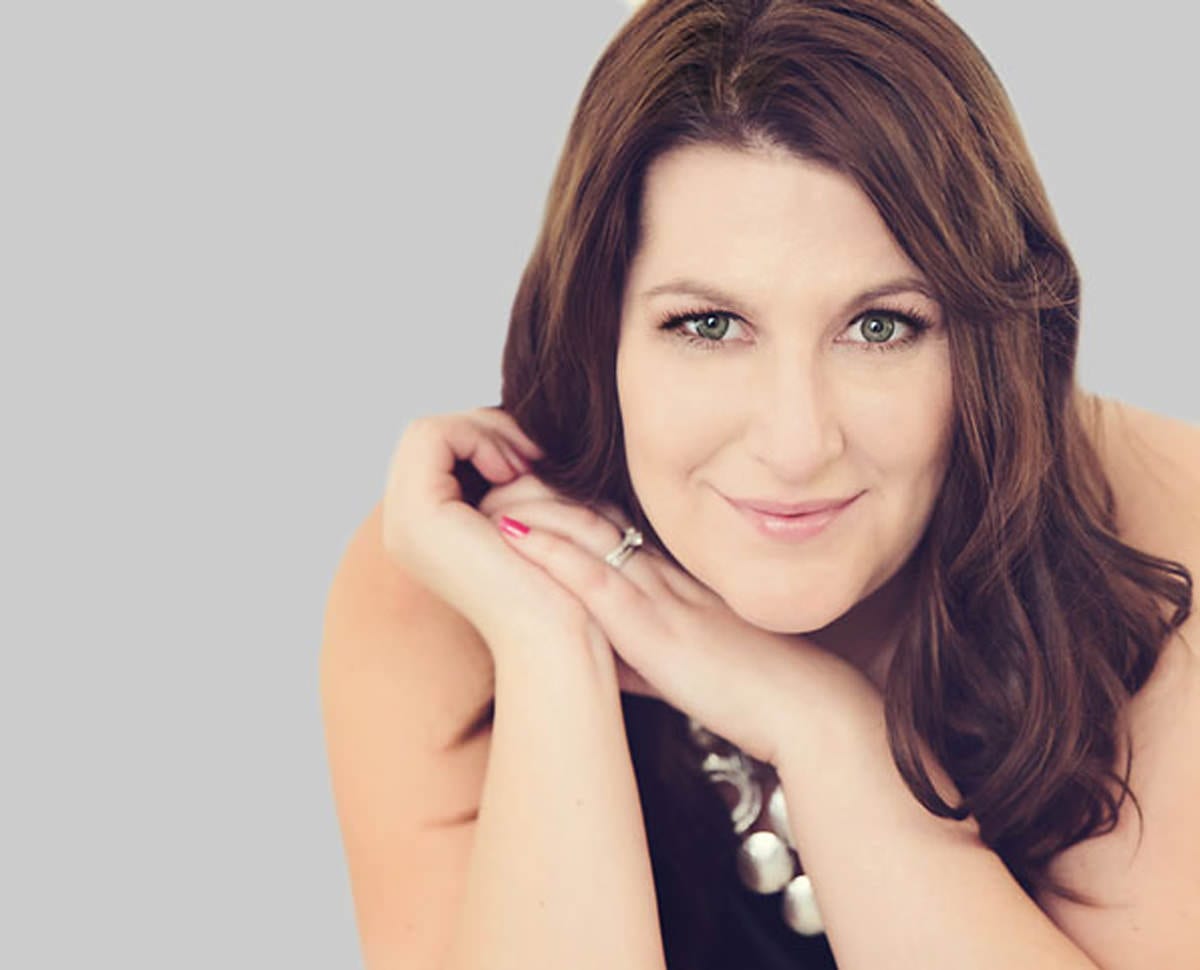 Author Bio
Lesley Notton is the Founder of Notton House Academy and Creator of several online training courses specialising in helping Entrepreneurs and Small Business Owners get to grips with their business to gain more leads, sales and profits.